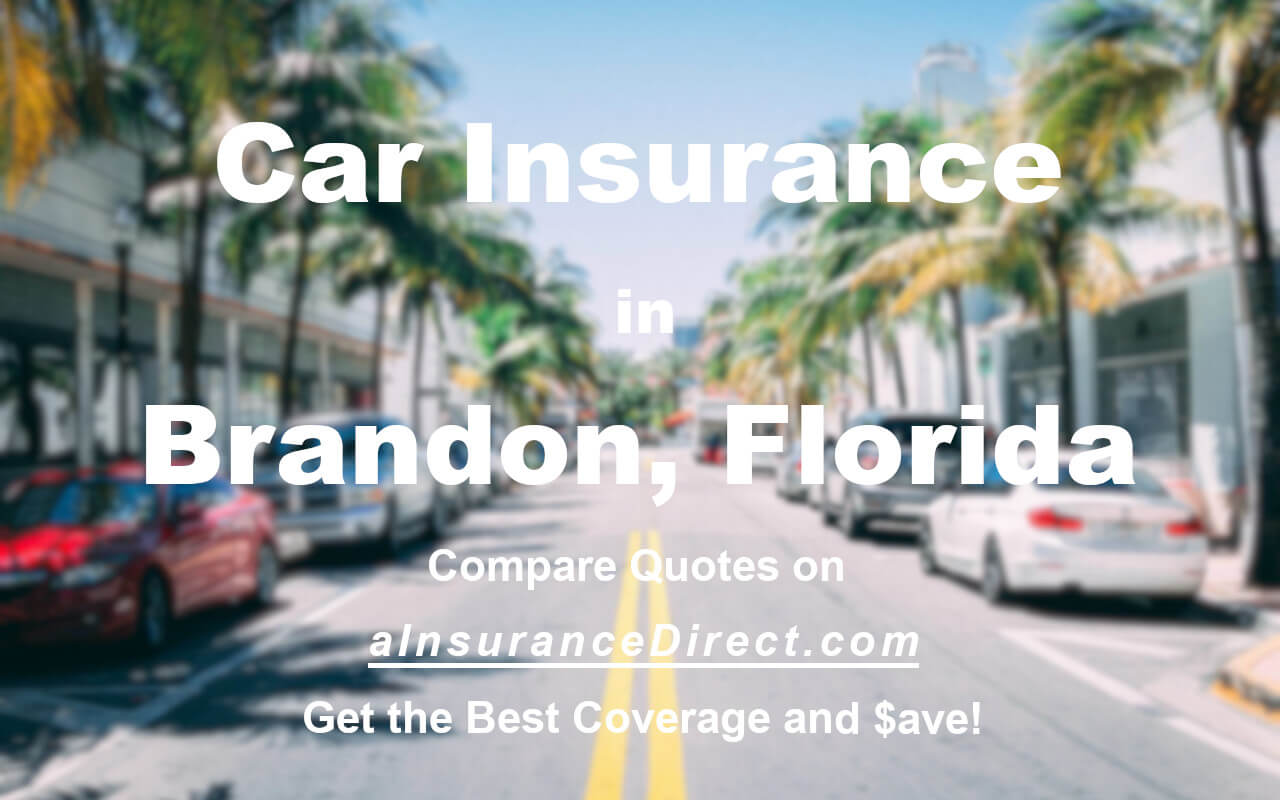 Everyone who drives a vehicle is required to have car insurance in Brandon, FL. In case your car is in an accident, you need to have a backup in case of unfortunate events, which is why it is necessary to have cheap car insurance in Brandon, to protect you from any financial constraints. Brandon car insurance is your one-stop shop to all your requirements and the best car insurance in the state of Florida. The best auto insurance is the one that covers all aspects and is still affordable for the clients.
Compare Car Insurance in Brandon.
Comparing quotes can help you find cheap car insurance rates near Brandon, and save up to 47% on your premium. Our Brandon auto insurance agency specializes in car insurance and offers state minimum coverage, state minimum plus liability, and full coverage. A-1 Insurance Direct provides the best customer service and caters to all inquiries by phone or in person, on a timely basis. We are here to help you with services like car insurance, homeowners insurance, renters insurance, business insurance, and commercial insurance.
A-1 Insurance Direct is efficiently leading the market in Florida, especially in Tampa and Brandon. We offer the cheapest car insurance quotes in Florida that we can customize according to your budget and preference. Our skillful licensed insurance agents take out time and resources to analyze your financial standing and will give you the best car insurance quote in Brandon.
Best Auto Insurance Rates in Brandon, Florida.
Our team sets up a quote within your budget and requirements and works around the clock to make sure you are fully satisfied with our services. The reason we have excellent reviews is because our customers always recommend us to family and friends. If you are in business with our agency – then you are one happy customer. We will help you whenever you require to pay your low monthly payment, changes in your packages, you want to add, or take out coverage. The friendly customer service will handle all your requests if you need a new cheap quote or pay your premium.
We will work tirelessly to meeting and exceeding all your expectations. Please visit our office to get your affordable auto insurance quote in Brandon – the address is 2800 N Macdill Ave, Ste B, Tampa, FL 33607. We are open Monday – Friday 9am – 6pm, and Saturday 10am – 2pm. Also, you may get a quote by the phone (813)849-7000 or visit our website www.aInsuranceDirect.com for a quote. List of Florida cities near our office in Brandon – Valrico, Seffner, Dover, Mango, Sydney, Riverview, Tampa, Plant City, Lutz, Wesley Chapel, Zephyrhills, Temple Terrace, Lakeland, Carrollwood, Ruskin, Apollo Beach, Gibsonton, Westchase, Thonotosassa, Wimauma, Bloomingdale, Greater Northdale, Egypt Lake-Leto, Lake Magdalene, Progress Village, Bay Pines, Crystal Springs. But if you live in Tampa Bay area then you may visit the location in Tampa, where we sell cheap car insurance Tampa.
Insurance Fact
Compare prices to find the cheapest and best rates.
How to get the cheapest car insurance in Brandon?
Here is all you need to do to get the cheapest car insurance: It is important to have all the required documents and information to get the cheapest car insurance in Brandon. First of all, you need to give your driver license number and your Vehicle Identification Number (VIN). The VIN is composed of 17 characters (digits and capital letters) and serves as the fingerprint. No two cars in operation have the same VIN.
The second aspect is submitting a no-claim bonus, which is a piece of paper that has car information on it. If you want to add additional drivers to your policy, then you need to give the name and license information of the two drivers. You also need to provide details about your driving record and other information. This information is such as how long you have had been driving a motor vehicle. Also, if you have any additional information about any suspended, tickets, DUI, SR22, FR44, accidents in the last five years. If there have been any previous accidents, then you have to state the claim with accurate details and timing of the said accident for record purposes.
If you have had a clean driving record for about 3 years, then you may get a lower price for your new quote. Insurance companies would be more willing to give out lower premiums to you. You may get a better insurance policy if you own an SUV. Also, a woman may be charged lower insurance premiums compared to a man since men tend to be involved in more automobile accidents than women.
Every year thousands of people are requesting quotes from our website to compare car insurance quotes in Brandon, FL from multiple companies and get the cheapest rates.
What kind of insurance should I get?
State minimum coverage, state minimum plus liability or full coverage?
There are different types of car insurance. If you know what you are interested in or looking for just let us know and we'll quote it up. If you are not sure what coverage you need, then our licensed agents will explain everything you need to know.
Property Damage Liability (PDL).
The maximum that your insurance company will pay for property damage caused by a car accident.
Personal Injury Protection (PIP).
Personal injury protection covers medical expenses related to a car accident.
Liability Insurance.
Liability insurance covers you if you are in a car accident, and it is determined the accident is a result of your actions.
Collision Coverage.
Collision coverage will pay for the repairs to your car.
Comprehensive coverage.
The third insurance type is comprehensive, which offers you coverage to the fullest. It covers your repair and replacement services. It also includes terms in case of a fire or damaged by fire.
| Average Cost Per Year | State Minimum Car Insurance | Basic Full Car Insurance | Full Car Insurance |
| --- | --- | --- | --- |
| Florida | $835 | $1,620 | $1,920 |
| Texas | $718 | $1,565 | $1,842 |
| Tennessee | $539 | $1,354 | $1,583 |
How can I get cheap car insurance in Brandon?
Don't miss out on this chance and get cheap car insurance in Brandon for yourself today! Save up to 60% when you compare car insurance rates in Brandon from multiple insurers.
Get the cheapest car insurance quote in Florida from multiple insurance companies for the best price. It only takes 4 minutes to find the best insurance rate. Contact our licensed agents 813-849-7000 for cheap car insurance quotes – aInsuranceDirect.com
Start Your Car Insurance Quote
The fast, free, and easy way to shop for Auto Insurance in Florida!