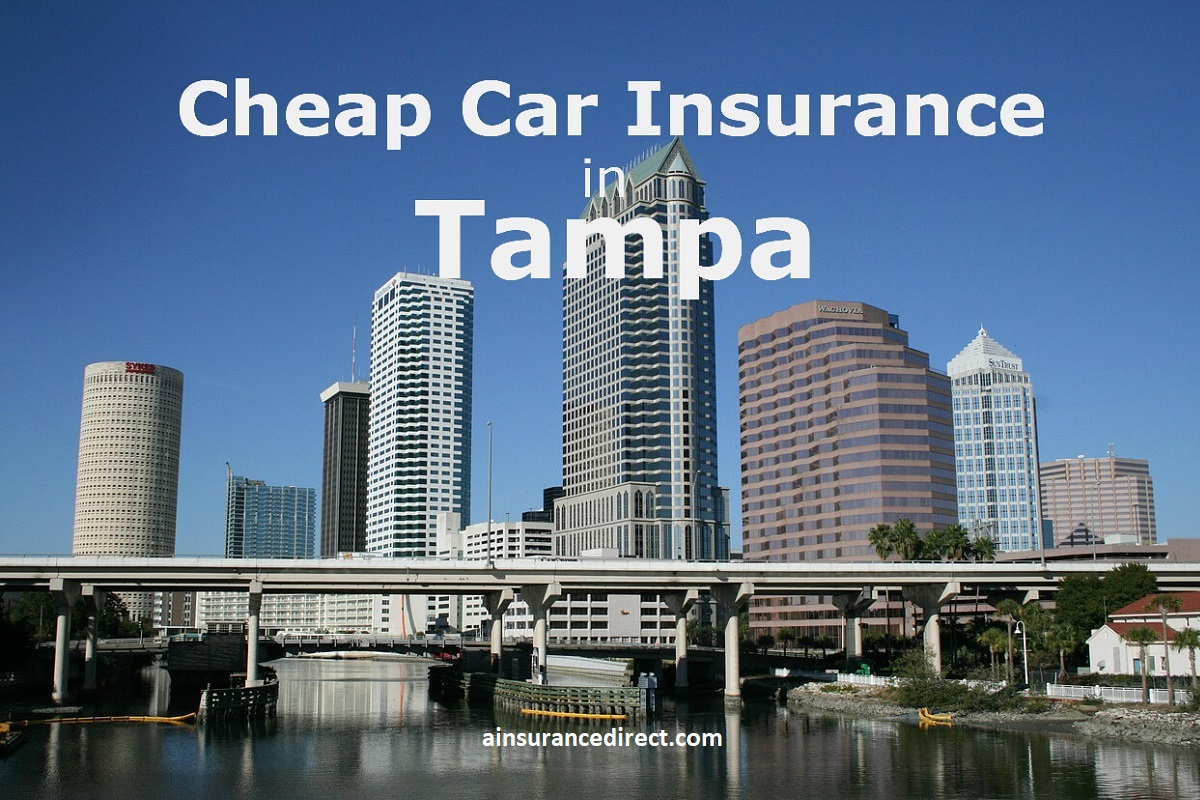 Looking for Cheap Car Insurance in Tampa, Florida?
Finding cheap car insurance in Tampa, Florida can be overwhelming and time-consuming. There are numerous companies, agencies, and brokers in Tampa Bay claiming to be the best insurance providers available.
But which direct insurance agency is offering cheap car insurance in Tampa. How can one be sure that the automobile insurance that you have chosen is the best option for you, personally? There are many variables when making such a decision, but thankfully Insurance Direct has made this decision a much easier one to make. We compare more than 110 auto insurance companies to give you the cheapest & best quotes. Save big money with direct car insurance.
A direct insurer is an insurance company that sells its car insurance policies directly to customers without using a middleman or agency. Direct insurers can charge lower premiums because they don't need to pay commission to intermediaries. But there are insurers that are not working directly with consumers. Those insurers work only with agencies and can give you the cheapest car insurance. We work with many insurers that are not working directly with consumers. At our non-standard car insurance agency in Tampa, we shop multiple carriers for the best rate within minutes! So get a free online car insurance quote now and save big money. Also, our low down payment option can be very helpful. Having a low down payment can mean the difference between buying insurance and driving without.
What's the Average Cost of Car Insurance in Tampa?
It's cheaper to insure a car in the cities of Tampa, Brandon, Clearwater, Saint Petersburg, Pinellas Park and Lakeland going to an average of $2000. While Miami, Fort Lauderdale and its surroundings have the most expensive insurance rates going for up to $3000 per year.
The average cost of auto insurance coverage in Tampa is higher than both the state and national average. What are the different rates state-minimum coverage and full-coverage auto insurance policies?
State Minimum – Lowest rate: $548 · Average annual premium: $1421 · Highest rate: $2541
Full Coverage – Lowest rate: $1662 · Average annual premium: $2873 · Highest rate: $4475
How to Renew Your Car Insurance in Tampa
Renewing your auto insurance is an easy process. Your insurer will send you a car insurance renewal letter via mail and send you an email. This letter usually comes with information about your new auto insurance rate.
Never automatically accept your renewal price. There is often a better deal to be found! Fill the quote form at the top of this page and start your new quote now, and save money.
What to do if your auto insurance is not renewed? If you receive a letter of nonrenewal from your current insurer, please don't worry. Simply, call us or get an online quote, and we may find you a cheaper policy for you.
Car Insurance Rates for Tampa Residents
In Tampa, there are a lot of factors that affect car insurance rates. The most important factor is the type of car. Also, the cost is based on your zip code, how many miles you drive your vehicle per day, your age and gender. Insurance companies charge more for certain types of cars because they are more expensive to repair in case of an accident.
Why Are We The Best Car Insurance Agency in Tampa, FL?
We can provide you with a quote from insurers that are not working directly with clients. This can help you get a low down payment and cheap monthly payments on your new policy.
So, why are we the best car insurance agency in Tampa? Because we compare multiple companies to give you the best coverage and the least expensive car insurance quotes in Tampa. Buying insurance should be easy, quick, and hassle-free. This is the reason why we simplify insurance by providing easy-to-understand, customized policies that best fit the needs and budgets of our customers.
Insurance Direct is the most trusted agency in Tampa due to the professionalism and respect that our licensed agents provide.
Cheapest Tampa Car Insurance.
When one is seeking the very best auto insurance available, the ideal first step is to shop online and get a direct car insurance quote. There are many companies that offer different discounts. Get a quote and we will apply any possible discounts. Let us compare and shop around for you, so you can save time and money.
We know that finding affordable and the right auto insurance is important to everyone. That is why we work very hard to find each customer the exact coverage they require, at an affordable price. Our top priority is to maintain excellent attention to each customer's needs. We will apply any possible discount and Direct Car Insurance will give you the best rate with the lowest down payment car insurance.
Cheapest Car Insurance in Tampa.
Get the help you need from your local Tampa Bay insurance expert. Auto insurance laws vary from state to state. Florida currently uses a Personal Injury Protection (PIP) system that is also known as No-Fault Insurance. All drivers with Florida license plates must carry at least $10,000 in no-fault or personal injury protection insurance and $10,000 in property damage liability insurance. Looking for the cheapest car insurance in Tampa get Florida state minimum coverage. Florida state minimum car insurance is required by low but it does not mean that you are required to spend a lot of money. Let us explain to you how to pay less and get affordable car insurance in Tampa. You will need to know the right level of coverage and the right kinds of coverage you need.
Tampa, Florida is part of a large metropolitan area called the Tampa Bay Area with almost 5 million population in Hillsborough and Pinellas county. Tampa is also part of the Brandon, Spring Hill, Ybor City, St. Petersburg, Pinellas Park, Largo and, Clearwater area.
Insurance Fact
Compare rates to find the cheapest and best policy.
Get a Quote and Get Your Instant Insurance Coverage Now.
Even if you have had trouble getting insured in the past, because of your driving record, we will find a way to work with you. Our insurance agency provides consistent, warm, customer support, either online, in person or over the phone (813)849-7000 (Se Habla Espanol).
Find Cheap Auto Insurance near me.
It is so easy to get a policy online with us – all you need is to get a free online quote. Also, you may like to visit our office in Tampa, the address is 2800 N Macdill Ave, Suite B, Tampa, FL 33607. It is so easy to find us at the corner of West Columbus Dr. and North Macdill Ave in Tampa, FL.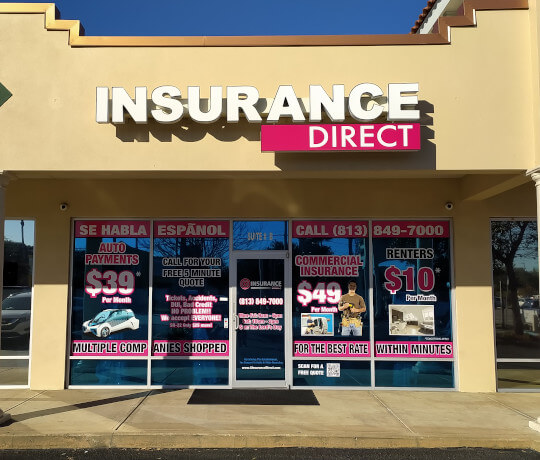 The best way to find cheap car insurance in Tampa is to compare auto insurance policy offerings and discounts after getting cheap car insurance quotes. No more searching for "cheap car insurance near me" — we do all of the work for you! No matter where you live in Florida, we can get you covered, and in most cases, you can get your policy online the same day! Whether you need Auto, Homeowners, Renters, Commercial, or coverage for your business, we can help! So if you look for cheap car insurance in Tampa, Florida you can trust us. We will give you the best quote even if you have a suspended license, accidents, tickets, DUI, need an SR-22 or FR-44 certificate. There will always be a friendly Insurance Direct sales agent available to help you find a low-cost policy, during our working hours.
For more information about coverage, laws, and discounts, please refer to your local DMV office, and visit the Florida Department of Highway Safety and Motor Vehicles website.
The Best Car Insurance Companies for Tampa Drivers
Finding the best car insurance company in Tampa can be a daunting task. The market is saturated with many different offers and advertisements, and it can be hard to know which one will offer the best coverage, price, and service. The best way to find the best coverage, price, and service on the market is to start a new quote at the top of this page. It is easy to compare rates in Tampa and get a new policy with a better price.
We are working with some of the top car insurance companies in Tampa Bay that offer a great experience for any driver looking for coverage.
| Average Cost Per Year | State Minimum Car Insurance | Basic Full Car Insurance | Full Car Insurance |
| --- | --- | --- | --- |
| Florida | $835 | $1,620 | $1,920 |
| Texas | $718 | $1,565 | $1,842 |
| Tennessee | $539 | $1,354 | $1,583 |
Best Car Insurance in Tampa Bay.
Let Insurance Direct find the best car insurance deals for you in The Sunshine State. The cheapest and the best car insurance quote we offer was $23 per month. A-1 Insurance Direct will help you get your personalized car insurance policy, and we will apply all possible discounts. Auto insurance costs vary from Florida location to location and between insurance carriers. We analyzed the latest data insurance rates to find you the cheapest quotes in your area. We are Car Insurance Direct and we are the #1 Florida car insurance specialists. Get an online quote from the form at the top of the page and save money!
Start Your Car Insurance Quote
The fast, free, and easy way to shop for Auto Insurance in Florida!