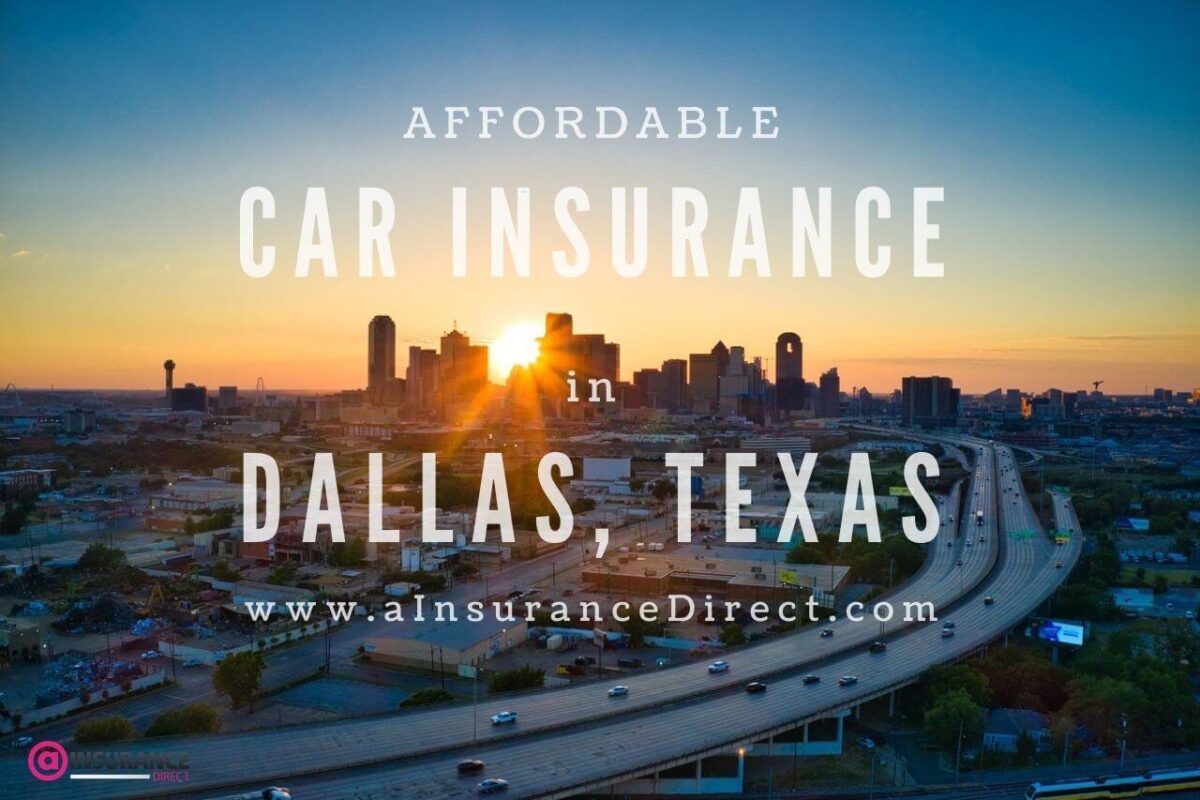 TABLE OF CONTENTS
Do you live or work in Dallas, Texas, the fourth-largest metropolitan area in the nation? Are you one of those households that own vehicle(s) in this cosmopolitan city? If yes is the answer you have for these questions, chances are that you have a good lot of other questions regarding Dallas car insurance. Insurance Direct is here to answer these questions and offer you quality and affordable car insurance in Dallas.
How Can I Get the Cheapest Car Insurance Quote in Dallas, TX?
Let us explain to you how to reduce the cost of your Texas car insurance and pay less. You may choose higher deductibles for lower premium payments. Also, avoid lapses in coverage, and pay in full (if possible) for the next 6 months instead of choosing the cheapest down payment and monthly payments. Always drive safely to keep points off your license. Get a new quote now, compare affordable car insurance rates in Dallas, TX and see how much you can save for a new policy. Please note that your rate will depend on your location, driving history, personal factors, age, gender, credit score, and vehicle. Rates vary from location to location and between carriers.
Cost of Car Insurance in Dallas: by Neighborhood
Dallas, Texas is part of a large metropolitan area called the Dallas Fort Worth Metroplex with almost 8 million population in Tarrant and Dallas county. The Dallas County population is nearly 2.6 million, and the population of Tarrant County is just over 2 million. Traffic congestion is one of the biggest problems for most drivers.
Car insurance rates in Dallas are different, depending on where in Dallas you live. The rates in some of the Dallas neighborhoods are affordable Lakewood, North Dallas, Cityplace, Oak Lawn. But in the neighborhoods Deep Ellum and Cadillac Heights, the rates are higher. The average annual car insurance rate in Dallas is about $1650, and the Texas average is about $1430. Some of the most expensive ZIP codes to insure a vehicle in Dallas are 75247, 75260, 75241, 75242, 75216. Cheap Dallas ZIP codes are 75287, 75248, 75098, 75252, 75214.
Best Auto Insurance in Dallas
Who has the best car insurance in Dallas? If you need to know how has the best vehicle insurance in Dallas, all you need to do is to get a new online quote and compare rates.
Insurance Fact
Compare prices to find the cheapest and best rates.
Cheapest Car Insurance Companies in Dallas, Texas?
Our top 6 picks of the most affordable insurers based on drivers living in Dallas. For good drivers with good credit, these are the cheapest auto insurance companies in Texas:
Progressive
GEICO
Allstate
Texas Farm Bureau
State Farm
USAA
Types of Automobile Insurance Coverage in Dallas, Texas
Liability Insurance
Bodily Injury Liability and Property Damage Liability coverage makes up the minimum state required coverage for all Texas drivers. It pays to repair or replace the other drivers' car and pays the other parties medical expenses (if you are found at fault). The State of Texas requires each driver to carry at least minimum Liability limits of $30,000 per person, $60,000 per occurrence, and $25,000 in property damage.
Bodily Injury (BI) Liability protects if the policyholder injures someone while operating an automobile.
Property Damage (PD) Liability coverage provides you with protection if your car damages someone's property.
Comprehensive & Collision Insurance
Comprehensive & Collision insurance help cover the repairs or replacement of your vehicle in the event of an accident, whether you are at fault or not.
Collision Insurance covers the cost of fixing or replacing your vehicle in the event of impact or collision with another vehicle or object.
Comprehensive – protection for the policyholder's car from damage and loss resulting from incidents other than collision.
Personal Injury Protection (PIP)
Personal Injury Protection (PIP) Insurance typically pays for the medical, hospital, funeral, and/or lost wages incurred by you and any passengers injured in an accident in your car regardless of who is at fault for the accident.
Medical Payments Coverage
Medical Payments Coverage – covers treatment of the driver and passengers of the policyholder's car in the event of an accident.
Uninsured & Underinsured Motorist Protection
Coverage for injuries and car repairs sustained by the policyholder, when hit by an uninsured or under-insured driver and by a hit-and-run accident. Also, covers medical treatment of the policyholder's injuries in the event of a collision with an uninsured driver. About 14 percent of drivers nationwide are uninsured. In Texas, the percentage of uninsured drivers is more than double the national average.
Uninsured Motorist (UM) coverage
Uninsured Motorist Property Damage (UMPD)
Underinsured Motorist (UIM)
Rental Reimbursement (optional)
In the event that your vehicle is disabled in an accident, this coverage helps with the expenses of renting a car rental until your car gets fixed.
Towing And Roadside Assistance Coverage (optional)
Roadside Assistance Coverage can help you if your vehicle has stopped running due to non-accident-related events. If you have car trouble and need roadside assistance, roadside coverage can help cover the costs for towing, tire changes, winching, jump-starts, lockouts, and fuel delivery.
Minimum Auto Insurance Requirements in Dallas
The State of Texas requires each driver to carry at least minimum Liability limits of
$30,000 of Bodily Injury Liability per Person,
$60,000 of Bodily Injury Liability per Accident,
$25,000 of Property Damage Liability.
By law, every car owner must insure their motor vehicle and produce evidence of the same when called upon. You need to purchase and maintain a minimum of liability auto insurance for your car to drive your vehicle. Proof of insurance is vital during car inspection, registration of the car, or when reprimanded by law enforcement officers due to a traffic offense. Drivers should consider higher optional coverages such as collision, comprehensive and Personal Injury Protection. For more information about coverage and requirements please contact our agents.
Best Car Insurance Discounts in Dallas
There are different ways you can lower your monthly premium by finding and applying for discounts. Shopping around and qualifying for discounts can save you a lot of money. We will help you get your personalized car insurance policy, and we will apply all possible discounts. Please note that each carrier offers different discounts:
Accident-free – drivers with no accidents during the past three years. You can save up to 10%.
Safe driver – no at-fault accidents or moving violations during the last three years. Save up to 35%.
Claims-Free
Homeowner
Multi-car – insure more than one car on a single policy and get your multi-car insurance discount. You can save up to 35%.
Compare Car Insurance Rates in Texas
If you are looking to compare cheap car insurance in Dallas, you can use our comparison quote form. It's important to get a quote from time to time to ensure you are still getting the most affordable rate.
We pride ourselves as one of the top-rated car insurance agencies in Dallas, TX and we believe that we have all it takes to offer you the cheapest auto insurance in Dallas in a straightforward and stress-free way. Unlike other insurance agencies, we put your well-being and that of your dear machine at the forefront and ensure that we come through each time you need us.
Focused car insurance in Dallas
First, as a company, we are very open to working closely with our competitors to ensure that we promote healthy competition in the industry. If you searched for "cheap car insurance near me", you would find very few insurance agencies that focus on car insurance only. On realizing that many car owners in Dallas don't get the kind of insurance policies they deserve. This is the reason we decided to put our sole focus on Dallas car insurance. Choosing us means that you are getting a strong niche market and a dedicated team that knows the ins and outs of car insurance in Dallas.
A wide array of personalized services.
Please don't waste a lot of time comparing car insurance in Dallas – we can easily pick and customize a policy to fit your needs best. To achieve this, we first take time to understand your needs and priorities. Then educate you on the coverages that best suit you and finally help you pick a policy that suits you and your situation. With us, you don't have to explain your needs to a different representative each time you call in. We can easily delegate one of our representatives to follow you up until all your needs are satisfied.
Opportunities to lower your car insurance rate.
Besides offering low-cost auto insurance in Dallas, we also give you some opportunities and discounts to reduce the cost. If you set your billing on automatic withdrawal, you can lower your rates up to 10%. Also, if you have taken a defensive driving course, you stand a chance of enjoying discounts of up to another 10%. No one would like to miss such rare offers and that is why you need to choose us if you are seriously looking for very cheap car insurance in Dallas. We will apply any possible discount you might be eligible for, including homeowner, multiple drivers, and multiple car rates. Let us find you a rate that you can afford and that covers everything you need.
Local auto-insurance services
We have mastered the insurance needs in Dallas, Texas, and we operate within the metropolitan area to ensure that we are available when you need us. You can get an online quote at any time from our website aInsuranceDirect.com.
Why we strongly believe you should choose us for your policy?
Provision of low-cost auto insurance in Dallas
The cost of car insurance in Dallas is affected by several factors. The common ones include the part of Dallas you live in, gender, your credit history, your vehicle, driving records, and how long you take to commute to work. On noting that most of the auto insurance policies offered in Dallas are more expensive than the national average, we decided to check and rectify all the loopholes that contribute to this. We believe that we offer the cheapest auto insurance in Dallas without compromising quality in any way.
Considering that every vehicle owner looks for affordable auto insurance in Dallas, you should not find any problems working with us. We will evaluate factors such as your credit score, zip code, age, prior driving history, and your driving record for the past 3 years to determine the price of the auto insurance policy that you should purchase from us.
Excellent customer support
We understand that you have lots of questions about auto insurance in Dallas. This is why we have a dedicated customer support team operating Monday to Friday from 8 AM to 5 PM, and Saturday from 9 AM to 1 PM, to ensure that all the details you want to be cleared are responded to professionally. All our support team members are easy to talk to and eager to not only respond to your questions but also assist you in finding the right auto insurance policy that suits your needs.
We are respectful and trustworthy
If the truth is to be told, many drivers and car owners have found themselves in the trap of unscrupulous agents that fail to fulfill their terms as per the policy agreement when the day of filing the claim dawn. Right from the time we started our operations, we have maintained a strong standing that our customers' well-being is way more important than even the sales and profits we make. We do all we can to ensure that we are there when our clients need us. We are honest in our pricing, the kind of coverages we offer, and in every aspect of your interaction with us.
Quality is our middle name
With us, it is not just about the pricing that makes us stand out. From the support to the coverages, every product you choose from this website is top-notch and superb-quality guaranteed. If you choose us, you can never complain about a horrible claim process since you will be getting all you deserve anytime, anywhere.
Auto insurance in Dallas takes up the major portion of all the insurance sold in this metropolitan area. Whether you are a driver or a vehicle owner, you will need to have proper car insurance in Dallas. In case you want the cheapest car insurance in Dallas that, at the same time, offers premium coverage, you need to fill out our online form. With us, you have peace of mind knowing that regardless of any inevitable uncertainties or dangers, you have a reliable shoulder to lean on. All you have to do is to get a free quote and we will handle the rest, including picking the affordable auto insurance policy that best suits you.
Insurance Direct offers affordable car insurance Dallas, Texas
| Average Cost Per Year | State Minimum Car Insurance | Basic Full Car Insurance | Full Car Insurance |
| --- | --- | --- | --- |
| Florida | $835 | $1,620 | $1,920 |
| Texas | $718 | $1,565 | $1,842 |
| Tennessee | $539 | $1,354 | $1,583 |
How Do I Purchase Car Insurance in Dallas?
How to get free auto quotes online, quickly and easily? Purchasing Car insurance from us is simple. You have to choose how to buy — online quote, by phone or go to our office. Once you have all your personal information and have decided on appropriate coverage limits, it's time to get a new quote from us. The easiest way to purchase is by submitting an online quote, please click the button below and submit the form. Our licensed Dallas insurance agents will help you get the best and the cheapest policy. Yes, it is simple, fast and easy.
Start Your Car Insurance Quote
The fast, free, and easy way to shop for Auto Insurance in Florida!