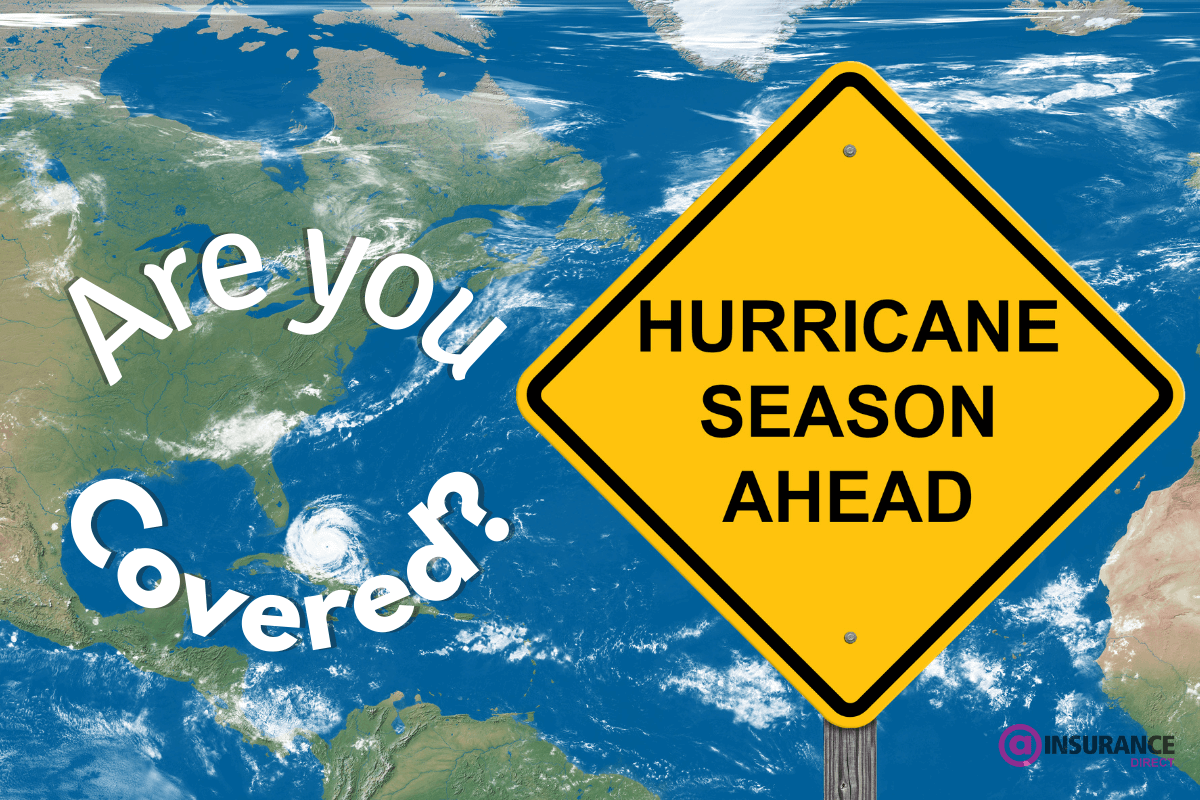 Why You Need Hurricane Insurance Coverage in Florida
To understand why you need hurricane insurance in Florida, we need to first understand what a hurricane is.
Hurricanes are large, powerful storms that form over warm ocean water and can cause significant damage to coastal communities. They usually occur during the summer and fall seasons when the Atlantic Ocean waters are warmest. When a hurricane interacts with deep waters, it can get even stronger which could turn this into a much more serious storm. While living in Florida is nice because of the sunshine and the beaches, it is necessary to be realistic and prepare yourself and your family.
Hurricane Ian
The most recent hurricane to hit Florida on September 28th 2022 was Hurricane Ian, which spanned from Fort Myers to Orlando, Florida. The hurricane continued northeastward through other states. Many houses, businesses and vehicles, were flooded and damaged. The damages are still being quantified, but after one week it has been estimated that there is over 2$ billion in insurance claims.
Hurricane Irma
Hurricane Irma was one of the costliest hurricanes ever recorded in history with damages exceeding $50 billion. The storm made landfall on September 10th, 2017, in Key West, Florida, and then continued northeastward through other states. Many houses and vehicles, were flooded and damaged.
Hurricanes are among the most powerful natural disasters. They can cause devastating damage that can last for months or years. The best way to prepare for a hurricane is to have an emergency kit and plan in place.
There are many different types of emergency kits, but the most important things to have in your kit are water, food, a cell phone, a generator, a power bank, and medical supplies. You should also make sure that you have a plan for where you will go if there is an evacuation order issued. When a mandatory evacuation is issued there is an enormous amount of traffic. Be sure to have full coverage car insurance as well. The best thing you can do is use your judgment and decide whether you have the means to leave as soon as there is an indication of a major storm coming. Being proactive rather than reactive will serve you much better when it comes to major storms.
During a hurricane, your home isn't the only thing that is vulnerable. If you have the opportunity to, make sure you have a safe enclosed area to keep your vehicles and that you have a full tank of gas in case you need to evacuate on short notice. Alongside these steps, take a look at the different coverages for your vehicle's insurance to see if you will be covered in case of catastrophe. Please consider getting a quote with use for comprehensive and collision coverage. Comprehensive coverage pays for damage from natural disasters, including floods, hail, tornadoes and wildfires.
As most Florida natives know, the days leading up to a hurricane are a mirage of panic by the public. This means that shelves are cleared of water, canned food, and toilet paper. There is no need to panic, instead, be prepared. With the recent announcement that Florida is within the cone of uncertainty and likely will see landfall at some capacity, it's important to start preparing now.
Insurance Fact
Compare prices to find the cheapest and best rates.
Why Flood Insurance Is Important
Flood insurance is important to have because it provides financial protection for homeowners, renters, and business owners. Flood insurance can help people recover from flood damage and rebuild their properties. It's always worth checking to see if you live in a flood zone.
Once you check, then you can start purchasing sandbags to protect your home from flooding. Even a category 2 hurricane has the potential to cause flooding, especially in coastal areas such as Miami and Tampa.
The National Flood Insurance Program (NFIP) is a federal program that offers flood insurance in participating communities, including nearly all communities in the United States.
I would recommend visiting FEMA's website to find out more information about hurricanes and what you should do if one is coming your way.
Hurricane Insurance Companies in Florida
It's important to be aware of what your homeowner's insurance covers, and you can do this easily by speaking to one of our agents to find out all of the information about the hurricane coverage. Most insurance companies provide coverage for hurricanes through windstorm coverages and flood coverages.
It's important to have both of these as hurricanes can cause devastating damage by wind and by flooding. If you aren't properly covered then damages caused by different storm impacts could not be covered. While an insurance company can't write a policy in the days leading up to impact, you can prepare yourself for next year's hurricane season by getting insured today.
Every carrier that we work with provides protection from hurricanes in Florida. This is our standard at Insurance Direct, to be sure that you can find all the coverage that you need at any time.
Hurricane Insurance in Florida for Mobile Homes and Condos
If you have a mobile home or condo in Florida, there is no need to worry about the possibility of losing everything. Insurance policies must cover wind damage in the State of Florida, so if you already have a mobile home or condo insurance then you are already covered for catastrophic damages from wind gusts. Just make sure to check your specific policy so you can be assured that you and your home will be safe.
Although, you are not covered for flood damage unless you add that coverage to your policy. The easiest way to do this is to simply reach out to us, or your insurance company and add flood insurance to your policy. Check your flood zones in your county and see if this is a necessity for you and your home. When it comes to preparing for the storm and making sure that you document damages, it is important to take pictures and videos of the property before and after the hurricane so the damages from the hurricane can be easily seen.
| Average Cost Per Year | State Minimum Car Insurance | Basic Full Car Insurance | Full Car Insurance |
| --- | --- | --- | --- |
| Florida | $835 | $1,620 | $1,920 |
| Texas | $718 | $1,565 | $1,842 |
| Tennessee | $539 | $1,354 | $1,583 |
Get The Best Possible Protection with the Right Hurricane Coverage in Florida
Hurricane season is an important time of year for Floridians, and it's important to have the right insurance coverage in place. It's important to also understand that insurance companies will not start a home insurance policy when a hurricane is coming. Although, it's important to get covered so you'll be prepared next time a hurricane is coming. It can be difficult to find the right insurance coverage for your home or business without doing some research first.
That said, it doesn't take much work to get the best possible protection with the right hurricane coverage in Florida.
Insurance Direct offers auto, home insurance, renters insurance, condo insurance, and manufactured and mobile home insurance to keep you safe.
Start Your Car Insurance Quote
The fast, free, and easy way to shop for Auto Insurance in Florida!