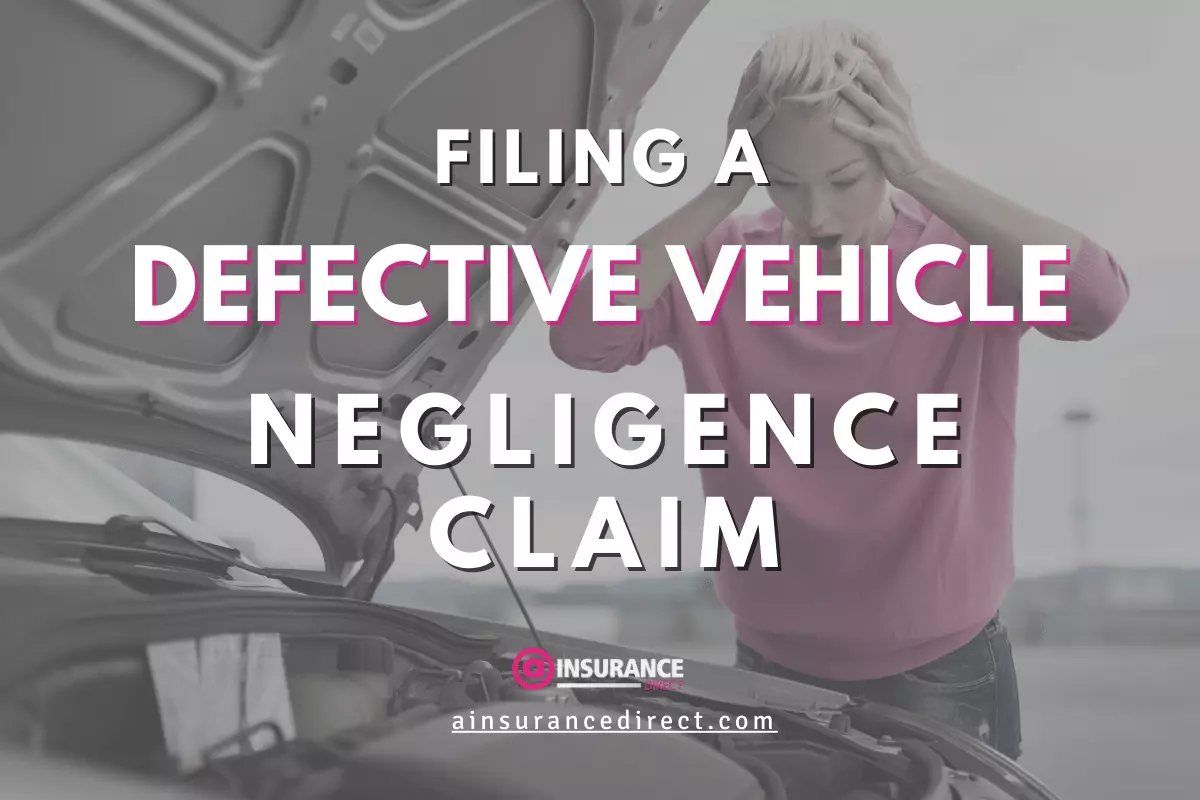 What is Defective Vehicle Negligence & How Does it Relate to Car Insurance in Tennessee?
Defective Vehicle Negligence is a legal concept that applies when a car manufacturer or dealer is held responsible for damages caused by a defective vehicle. If a driver is not aware of this negligence, then this applies to the Tennessee TORT system. In Tennessee, if an owner of a car can prove that the damages were caused by the negligence of the manufacturer or dealer, then they may be able to recover financial compensation for their losses. This is because Tennessee law holds manufacturers and dealers responsible for the safety of their vehicles and any defects that may cause harm to drivers and passengers. Car insurance policies in Tennessee may cover some of these losses, but it is important to understand what type of coverage you have to know if you will be able to file a claim against your insurer.
Overview of Tennessee's Laws Governing Defective Vehicle Negligence Claims
Tennessee's laws governing defective vehicle negligence claims are designed to protect consumers who have suffered losses due to a vehicle defect. These laws provide legal remedies for those who have been injured or suffered property damage as a result of a defective vehicle. The state of Tennessee recognizes three types of claims related to faulty vehicles: strict liability, breach of warranty, and negligence. In each case, the burden of proof lies with the plaintiff to prove that the defendant was at fault for their losses. This article will provide an overview of Tennessee's laws governing defective vehicle negligence claims and how they can help those who have been affected by such an incident.
Insurance Fact
Under Tennessee TORT, drivers, the state, and the auto dealer can all be held liable for negligence. This mean's that if the State does not fix known road hazards, then it will be held liable due to its negligence. It also protects drivers from car dealerships selling cars with undisclosed problems that lead to accidents.
Understanding the Different Types of Car Insurance Coverage Available for a Defective Vehicle Negligence Claim in Tennessee
In Tennessee, car insurance coverage is an important consideration when filing a defective vehicle negligence claim. Understanding the different types of car insurance coverage available and how they work can help you make sure that you are adequately compensated for any damages or losses incurred as a result of the defective vehicle. This article will explain the various types of car insurance coverage available in Tennessee and what each one covers, including liability, collision, comprehensive, uninsured/underinsured motorist, medical payments, and rental reimbursement. It will also provide information on how to obtain quotes from multiple insurers so that you can find the best coverage for your needs.
What Steps You Need to Take to File a Defective Vehicle Negligence Claim in Tennessee
If you have purchased a defective vehicle in Tennessee, you may be eligible to file a negligence claim against the dealer or manufacturer. To do so, several steps need to be taken. You will need to document the accident and report the accident to the authorities to have written documentation then contact your insurance company. Covers you from dealerships, the state, and drivers. Negligence is an act or omission that constitutes a breach of a duty owed to another person, and which proximately causes harm. It can be defined as the failure to use reasonable care in one's actions, words, or conduct. Negligence claims are typically filed when a person has been harmed by the wrongful conduct of another party.
What Is The Minimum Insurance Coverage Required by Most US States?
Minimum Insurance
Required
Bodily Injury (BI)
Property
Damage (PD)
Personal Injury
Protection (PIP)
Florida (No-Fault)
optional coverage
$10,000
$10,000
Texas (At-Fault)
$30,000 per person,
$60,000 per accident
$25,000
optional coverage
Tennessee (At-Fault)
$25,000 per person,
$50,000 per accident
$15,000
optional coverage
What Is The Average Auto Insurance Cost Per Year in Tennessee?
| Average Cost Per Year | State Minimum Car Insurance | Basic Full Car Insurance | Full Car Insurance |
| --- | --- | --- | --- |
| Florida | $835 | $1,620 | $1,920 |
| Texas | $718 | $1,565 | $1,842 |
| Tennessee | $539 | $1,354 | $1,583 |
Does Insurance Cover Car Rust, Corrosion and Erosion?
Unfortunately, no. Car insurance does not cover erosion caused by the sun, mud and salt. This is why it's important to protect your car. Some of the car manufacturers may cover the rust and erosion with limited warranty. Unfortunately there is not such a thing car erosion insurance. Car insurance does not cover rust, corrosion and erosion damage. Rust almost always results from normal wear and tear.
Does Car Insurance Cover Potholes
Depending on your insurer, it is possible to opt into only collision or comprehensive. This is perfect for people who live near potholes but are not so much worried about the forces of nature affecting their vehicles. Pothole car damage is covered if you have collision coverage. Potholes cause minor damage to a tire or wheel, and can mess up your vehicle's alignment or suspension.
What's the difference between Mechanical Breakdown Insurance and Comprehensive Collision
Comprehensive and collision coverage covers damage caused by accidents, while mechanical breakdown insurance covers general repairs.
Can you negotiate the price with insurance companies? You cannot negotiate rates since prices and the auto insurance industry are regulated by each state. Insurance discounts, savings, and eligibility requirements vary by insurer and state, but most companies offer auto insurance discounts and rates can vary from company to company depending on down payment and monthly payments.
Drive Safe!
Start Your Car Insurance Quote
The fast, free, and easy way to shop for Auto Insurance in Florida!