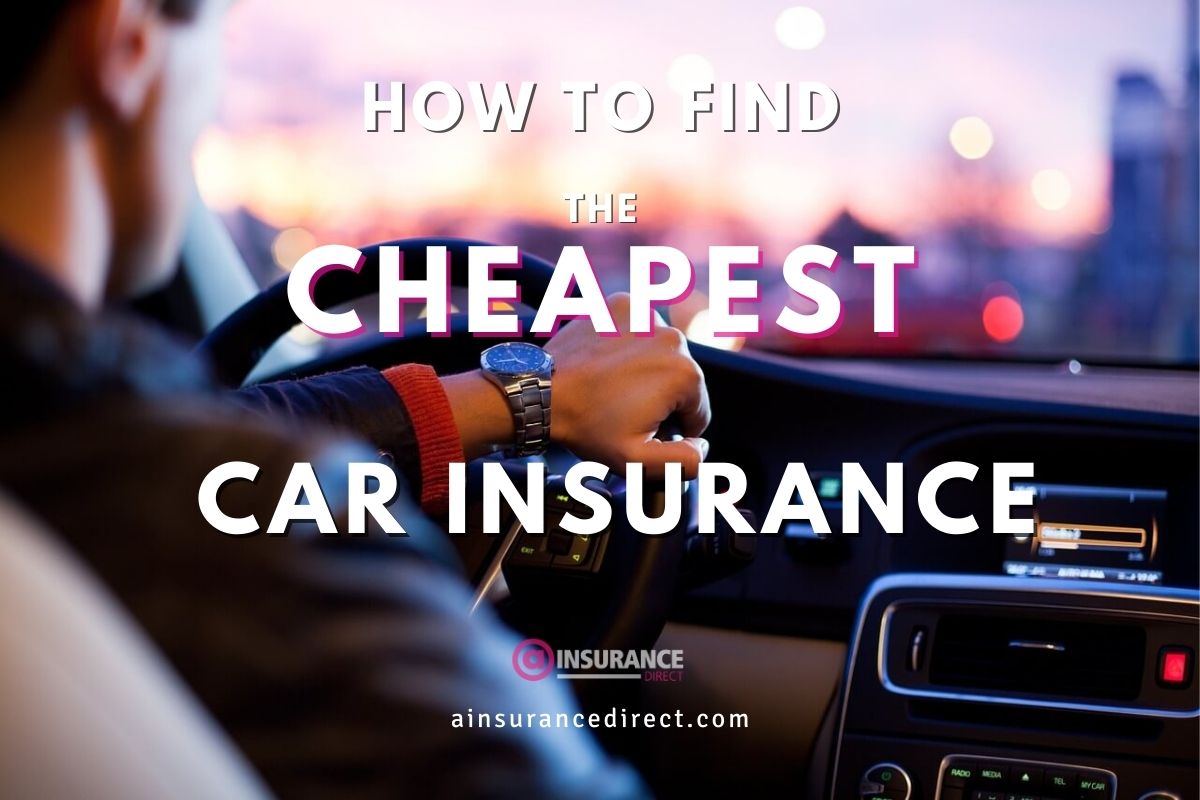 Finding cheapest car insurance can be frustrating and time-consuming.
But which companies offer the cheapest auto insurance? However, finding the least expensive car insurance and the right policy can be an easy task. Let us help you. You can get the cheapest auto insurance quote in Florida from multiple insurance companies for the best price. Only takes 4 minutes to find the cheapest car insurance rate by submitting the online quote form at www.aInsuranceDirect.com or contact our licensed insurance agents 813-849-7000 for a personalized insurance quote. We will give you the best quote even if you have suspended license, accidents, tickets, DUI, need SR-22 or FR-44 certificate.
How to get the cheapest car insurance with a bad driving record?
The amount of coverage you want will determine the price, along with your age, gender, ZIP code, credit score, what you drive and driving record.
Driving Record
All of the insurers will ask you their favorite questions – Do you have any tickets or accidents? Has your license been suspended in the past 5 years? Your automobile insurance rates are affected by accidents and tickets. The most common reasons that individuals are labeled as high-risk drivers because of serious violations such as driving under the influence, causing a hit-and-run accident, speeding tickets, distracted driving ticket.
Credit Score
Most U.S. car insurance companies use credit-based insurance scores to help determine risk. If you are having poor credit score, can boost your car insurance rates by hundreds of dollars a year compared with having good credit.
Where you live
Also, your ZIP code and where you live plays a large role in determining how much you pay.
Florida is ranked in the top 10 most expensive states for car insurance. Florida drivers pay an average of $1838.23 in premiums a year. Texas drivers pay an average of $1692. Currently, we believe that we offer the cheapest auto insurance in Dallas without compromising quality in any way.
What vehicles you drive
Insurers decrease premiums for safer cars.
When you do start looking for insurance, be sure to prepare. To do automobile insurance quote, all you will need is your driver license, vehicle year, make, model and VIN.
Insurance Fact
Your ZIP code, what vehicles you drive, and your driving record plays a large role in determining how much you pay.
How to Find Cheap Car Insurance in 3 Simple Steps Step 1: Determine Your Driving Habits & Coverage Needs
If you are looking for some help in determining your driving habits and coverage needs, take a look at the following questions.
1) Do you have a good or bad driving record? Even with a low credit score, you can still get an affordable auto insurance with a bad driving record from our agency.
2) How many miles do you drive each year?
3) What type of vehicle do you drive? Is it safe?
4) Do you have any other drivers on your policy?
5) How much car insurance do I need?
| Average Cost Per Year | State Minimum Car Insurance | Basic Full Car Insurance | Full Car Insurance |
| --- | --- | --- | --- |
| Florida | $835 | $1,620 | $1,920 |
| Texas | $718 | $1,565 | $1,842 |
| Tennessee | $539 | $1,354 | $1,583 |
Step 2: Compare Quotes from a Wide Range of Car Insurance Companies
Usually, car insurers provide you with an online quoting system where you can enter the details of your vehicle, even before making a purchase.
When looking for motor vehicle insurance, it's important to compare quotes from a wide range of car insurance companies. This will help you find the best deal and ensure that you have the right coverage for your needs. Start your quote with Insurance Direct, and we will provide you with rates from some of the best and cheap car insurance companies.
Step 3: Choose the Best Car Insurance for You
There are some things to consider when choosing the best car insurance in Florida. We hope that this article helped you to answer some of the most important questions about car insurance and point out some of the most common mistakes people make when shopping for vehicle coverage.
Remember that no one company offers cheap rates, and be sure to contact us, so we can give you the best quotes. We will apply any possible discount you might be eligible for, including multiple drivers and multiple car rates. We will find you a rate that you can afford and that covers everything you need. While not all insurers show prices, we filter down to the cheapest and most relevant options based on your profile. What are you waiting for, get a quote now for auto insurance as low as $1 per day? We compare multiple insurance companies for the best price. Only takes 4 minutes to find the best insure rate online aInsuranceDirect.com. Contact our licensed insurance agents (813)849-7000 for cheaper vehicle insurance quotes.
Start Your Car Insurance Quote
The fast, free, and easy way to shop for Auto Insurance in Florida!