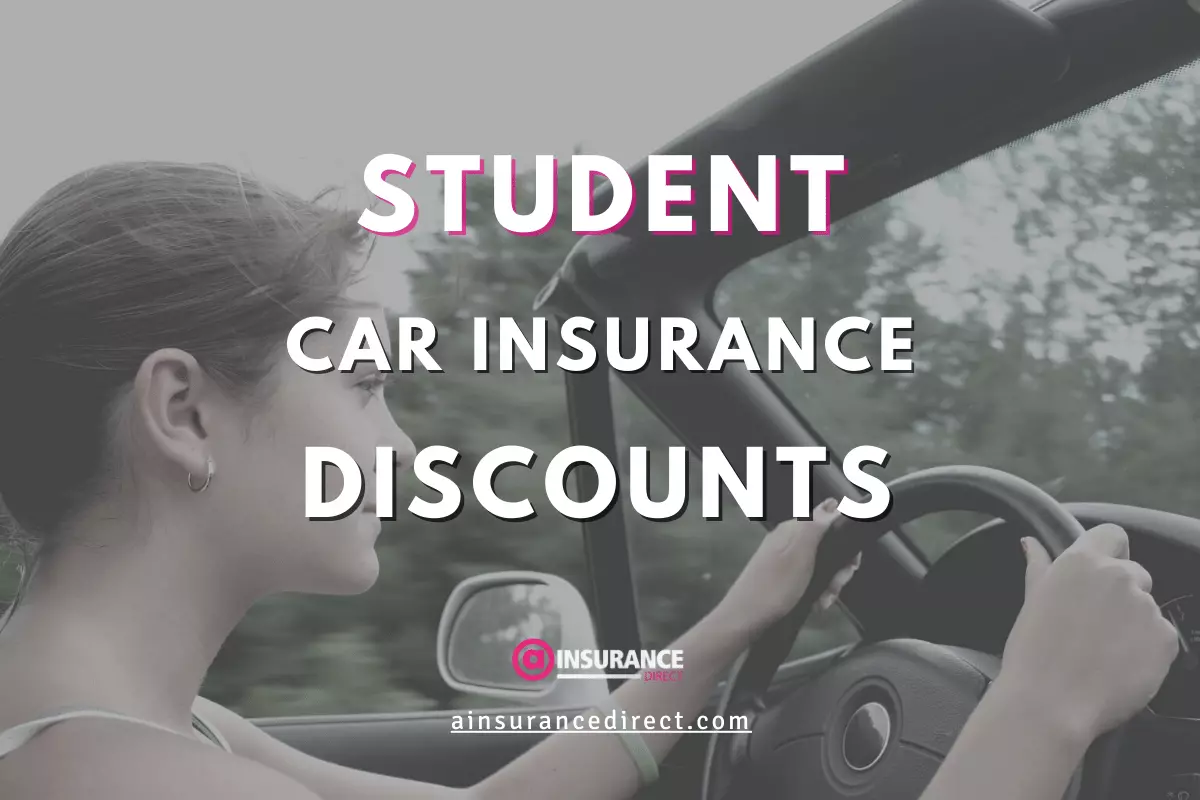 Looking For Student Car Insurance Discounts?
The new school year is just around the corner, and we want your first driving experience to be safe and exciting. Here's how Insurance Direct can get you Car Insurance for First Time Drivers:
Get a quote from us by clicking the button below.
Complete the application form with your contact information and vehicle details.
We will call you to confirm your details before processing.
It's a new school year, so it is time to get ready for the road! At Insurance Direct, we offer many car insurance options for first-time drivers, so you can find the coverage you need. We also offer discounts on your policy if you're a student driver under 25 years of age or you have completed an approved driver education program. Insurance Direct will provide new student drivers with what they may need.
What is a Good Student Discount and How Do I Get One?
Students enrolled in undergraduate or graduate programs at a college or university qualify for the student discount on car insurance. The first step is to discover your school's parking permit costs. If you have a parking permit, you are eligible for a student auto insurance discount. You can save up to 20% with this discount. You will need proof of enrollment to get the discount on your policy, so make sure you keep your tuition receipt and any other documentation of enrollment handy if you go shopping for car insurance soon.
Insurance Fact
Most insurers offer a student discount for young drivers 16 to 24. Drivers must be full-time high school or college students who earn good grades in school.
What are the Different Types of Student Discounts for Car Insurance?
There are many different car insurance discounts for students with a clean driving record. These discounts are offered by insurance companies and can be found on their websites or through our agents here at Insurance Direct.
Some of the most popular student discounts for car insurance include:
Good Student Discounts
Typically available to students with a 3.0 GPA or higher and no accidents or violations on their driving record in the last three years. These discounts may be extended to dependents of the student with a good GPA and no accidents or violations in the last three years.
Driver Education Discounts
Those are typically available to young drivers who have completed driver education programs. These drivers will also receive reduced rates if they complete an advanced training course like defensive driving. Ask our agents if you qualify. Here you can find more information about how to get cheap car insurance for teens and young drivers.
Distant college student discount
This discount benefits the student's parents and is a good way to help your parents financially. Also, will help you because it will allow your parents to save and that may also allow for you to receive more financial assistance from them.
Affiliation discounts for students
This discount is also available for students affiliated with certain groups that will deduct a percentage from your policy. Discuss with your Insurance Direct agent which groups they accept and see if there is a comparison.
University and alumni discounts
Many auto insurance companies offer discounts based on the school you attend and if your parents or a family member is an alumnus of that university.
Military Discount
Almost every insurance companies offer discounts to military members or veterans, so be sure to discuss this with our agent when working on a policy, this should be of high priority.
| Average Cost Per Year | State Minimum Car Insurance | Basic Full Car Insurance | Full Car Insurance |
| --- | --- | --- | --- |
| Florida | $835 | $1,620 | $1,920 |
| Texas | $718 | $1,565 | $1,842 |
| Tennessee | $539 | $1,354 | $1,583 |
Policy and vehicle discounts for students
Some discounts are based on the type of vehicle you drive and the features it comes with. Ask our agent about this as well and see if you qualify.
Safety equipment discount.
Ask our agent if they can provide you a discount based on your vehicle having these safety features or at least two of them on your vehicle.
Anti-theft systems discount.
Tracking device discount.
Safety tech discounts, like electronic stability control.
You don't have to worry about discounts, because our licensed agents at Insurance Direct will apply all available discounts you can qualify for. All you need to do is to get an auto insurance quote from our website, and our agents will guide you to get your new policy.
Start Your Car Insurance Quote
The fast, free, and easy way to shop for Auto Insurance in Florida!